根据国家留学基金委《中国政府奖学金年度评审办法》的要求,下一学年继续在校学习的中国政府奖学金生,必须参加奖学金年度评审,无故不参加奖学金年度评审者,将被取消奖学金资格。现将年度评审相关事项通知如下:
According to the Regulations of Annual Assessment for Chinese Government Scholarship issued by China Scholarship Council, all the Chinese Government Scholarship students, who wish to continue the study at Renmin University of China, are required to take the annual assessment. Those who fail to take the annual assessment will not enjoy the support of the scholarship. The details of the annual assessment are as follows:
一、需要参加年度评审的对象:
1. 2018年9月之后继续享受中国政府奖学金的学生;
Students who continue CSC scholarships after September 2018.
2.原计划2018年7月毕业,但申请延期且符合延期要求的学生;
Students who originally planned to graduate in July 2018, but applied for extension and meet the extension requirements.
3.上年度奖学金评审不合格被中止奖学金资格或减免部分奖学金的学生。
Scholarships students who did not meet the previous year`s scholarship requirements and got their scholarships suspended or partial scholarships.
二、评审材料:
1. 下载打印《中国政府奖学金生年度评审表》(见附件)(双面打印);
Please download and print the form, page 1 should be completed by yourself, first half of page 2 by your school administrator;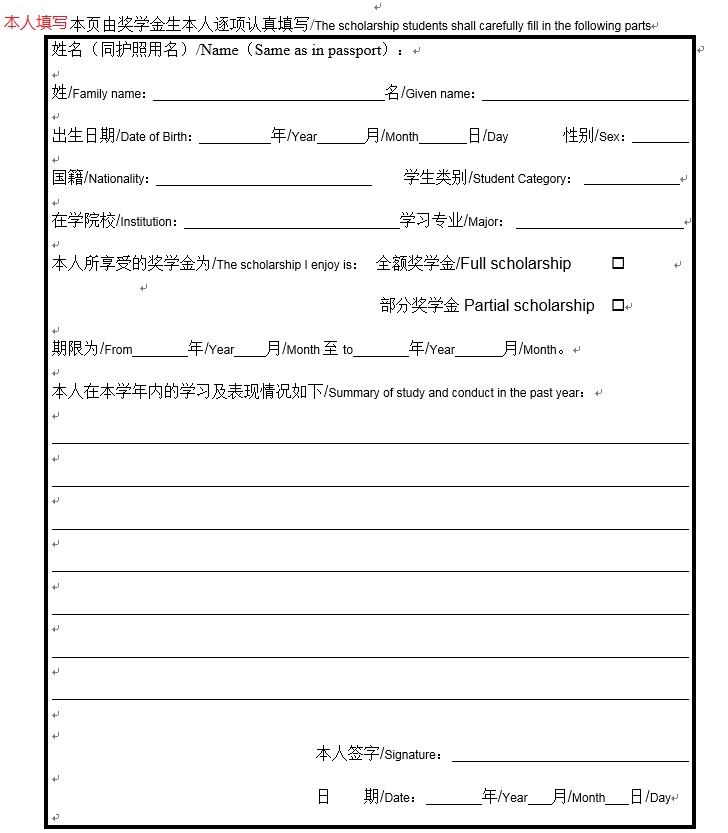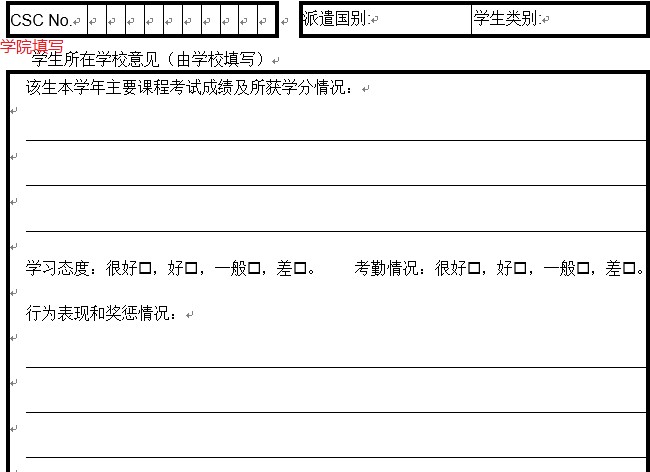 2.成绩单(加盖学院教务科公章);
Please print your transcripts and go to the academic affairs division in your school and get the transcript stamped;
3.将《中国政府奖学金生年度评审表》和"成绩单"提交到留学生办公室。
Please submit the Annual Assessment Form & stamped transcript to International Students Office.
请于2018年4月27日之前到留学生办公室领取并提交《中国政府奖学金年度评审表》,不参加年度评审的同学将被中止下一学年奖学金资格。
Please submit "China Government Scholarship Annual Review Form" to the International Student Office before April 27, 2018. Students who do not participate in the Scholarships Annual Review will be disqualified from the next academic year.
附件:中国政府奖学金年度评审表

Form for Annual Review of Chinese Government Scholarship Status

留学生办公室
2018年4月11日